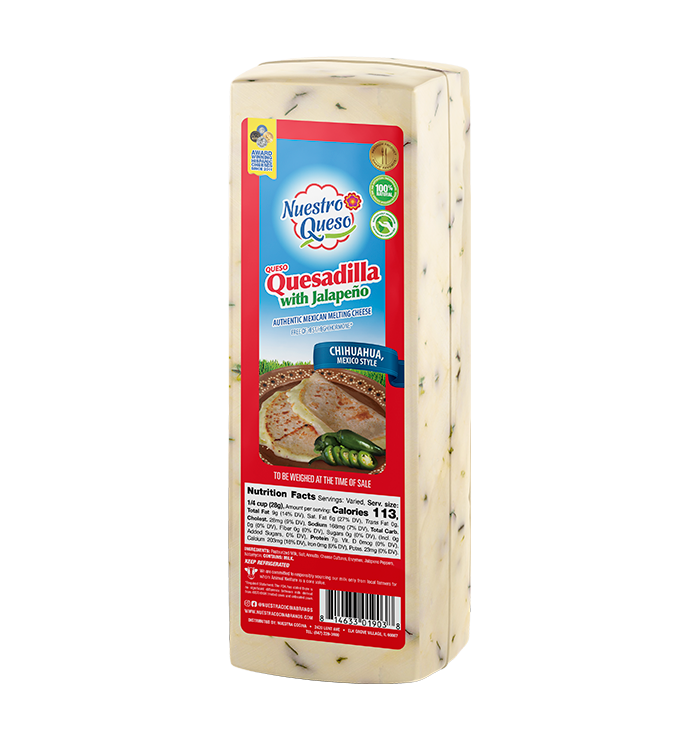 Nuestro Queso
Quesadilla with Jalapeño Loaf 5lb
Pronounced: kay-sa-DEE-yah
Authentic Mexican Melting Cheese with Jalapeño
Rich, creamy, and crafted with natural jalapeño peppers that bring an irresistible spicy accent to any dish, our Quesadilla with Jalapeño has rapidly become a chefs' favorite for its excellent melting qualities. Enjoy its tangy flavor at room temperature for a fantastic anytime snack too!
• The spiciness of our Quesadilla with Jalapeño makes it an interesting fit for baking dishes, fondues, pizza, and lasagnas.
• It gives tacos, quesadillas, and enchiladas the perfect mexican touch.
• It is a fantastic choice for queso fundido and omelets. An unforgettable spicy taste!
✓ Award Winning Hispanic Cheeses since 2011
✓ 100% Natural
✓ Sustainably Produced
✓ Gluten Free
✓ rBST / rBGH Hormone Free
✓ Locally Produced
Ingredients
Pasteurized Milk, Salt, Annatto, Cheese Cultures, Enzymes, Jalapeno Peppers, Natamycin. CONTAINS: MILK.
Nutritional Information
Nutrition Facts Servings: 81, Serv. size: 1/4 cup (28g), Amount per serving: Calories 113, Total Fat 9g (14% DV), Sat. Fat 6g (27% DV), Trans Fat 0g, Cholesterol 28mg (9% DV), Sodium 168mg (7% DV), Total Carb. 0g (0% DV), Fiber 0g (0% DV), Total Sugars 0g (0% DV), (Incl. 0g Added Sugars 0%DV), Protein 7g. Vit. D 0mcg (0% DV), Calcium 203mg (16% DV), Iron 0mg (0% DV), Potassium 23mg (0% DV).