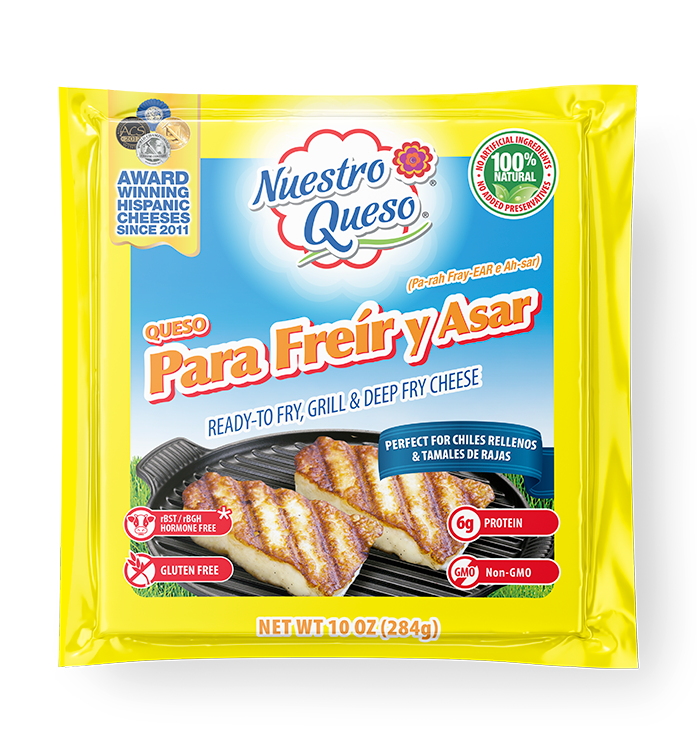 Nuestro Queso
Para Freír y Asar 10 oz.
Pronounced: Pa-Rah Fray-EAR e Ah-sar
Ready-to Fry, Grill & Deep Fry Cheese
Nuestro Queso® Para Freír y Asar is a firm cheese that can be deep-fried or pan-fried without melting or losing its shape. Once fried, it results in a golden brown crust on the outside while the inside holds a tasty creamy texture.
• Our Para Freír is so versatile it can be a good replacement for meats, combining it with vegetables.
• It's a fantastic solution for a quick appetizer accompanied with guava paste or mermelade.
• Eat it with fruits, as a snack or as a dessert.
✓ Award Winning Hispanic Cheeses since 2011
✓ 100% Natural
✓ Sustainably Produced
✓ Gluten Free
✓ rBST / rBGH Hormone Free
✓ Non-GMO
✓ Locally Produced
Ingredients
Pasteurized Milk, Salt, Enzymes, Titanium Dioxide.
CONTAINS: MILK.
Nutritional Information
Nutrition Facts Servings: 10, Serv. size: 1/4 cup (28g), Amount per serving: Calories 82, Total Fat 6g (7% DV), Sat. Fat 3g (15% DV), Trans Fat 0g, Cholesterol 19mg (6% DV), Sodium 125mg (5% DV), Total Carb. 2g (0% DV), Fiber 0g (0% DV), Total Sugars 1g (0% DV), (Incl. 0g Added Sugars, 2% DV). Protein 6g. Vit. D 0mcg (0% DV), Calcium 233mg (26%DV), Iron 0mg (0% DV), Potassium 43mg (1% DV).