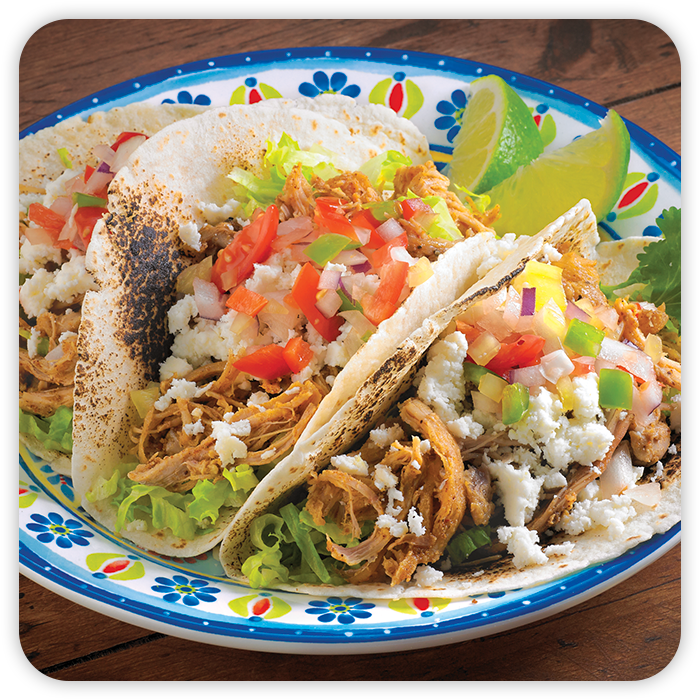 4 lbs boneless pork shoulder, cut into chunks
Salt
2 tablespoons oil
1 teaspoon cinnamon
2 teaspoons chili powder
5 teaspoon cumin
2 bay leaves
5 cloves garlic, sliced
1 small head red cabbage, shredded
1 small orange, juiced and zested
Olive oil
Flour or corn tortillas, toasted
Chopped avocado
Cilantro
Nuestro Queso Talavera-Fresco Cheese
Crumbled
Lime wedges
1. Rub the pork thoroughly with salt. In a large ovenproof pot or Dutch oven, heat the oil over medium high heat and sear the porkin batches until it's browned on all sides.
2. Preheat the oven to 375 degrees. Add all the pork back into the Dutch oven, along with the spices, bay leaves, and garlic, and cover the meat of the way up with water. Cover and bring to a boil on the stove. Once boiling, place the Dutch oven into the oven uncovered. Cook 3 to 4 hours, until the pork is tender and falling apart.
3. Toss the shredded cabbage with orange juice, orange zest, olive oil, and salt to taste.
4. To serve, take a toasted tortilla shell and add some of the carnitas, cabbage slaw, avocado, cilantro, and Nuestro Queso Fresco Cheese. Serve with a squeeze of lime.